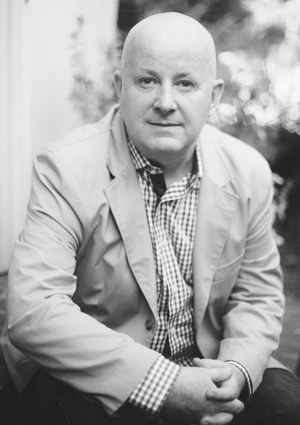 Bookings
Kevin May is represented
by C.KAY International.
To book Kevin for a speaking engagement, please contact:
Caroline Kay
206.979.1525
[email protected]
Kevin May, Sticks Founding Partner
Kevin May, founding partner of Sticks, is a veteran of the UK and US advertising industries. A graduate of Oxford University, the first 20 years of his career were spent in London, at agencies such as J Walter Thompson, TBWA, CDP, AMVBBDO and Y&R, as well as time working as a journalist and independent strategist. He came to the USA at the end of 2005 to head up the planning department at Publicis in Seattle, before leaving to start Sticks in 2009. He has provided the strategic smarts behind numerous campaigns that have won awards for both creativity and effectiveness in market, including Nestle (confectionary and ice cream), RAF (recruitment), Telegraph (newspapers), Gallaher (tobacco), Virgin (financial services), Canon (cameras), T-Mobile (cellular), and Washington's Lottery (lottery).
Sticks was founded to provide a more flexible and circumspect strategic resource for businesses needing to deal with the sort of unprecedented situations arising from the more fluid and unpredictable environment of the digital age. It comprises a community of over 250 ideas professionals from the worlds of agency strategy, management consultancy, market research, digital specialization, client marketing, and entrepreneurialism, as well as from more diverse fields such as law, industrial design, teaching, architecture, neurology, and non-profit fundraising. The central promise is a fresh and independent perspective on any issue that requires some distanced objectivity rather than just the specific knowledge of subject-matter expertise.
It organizes itself like an agency creative department, and its output is actionable, simple and expressed in plain English. Clients include major corporations such as Microsoft, T-Mobile, Virgin, Hasbro, Starbucks, Expedia, Allstate Insurance, and Moet Hennessy, through to more local companies/start-ups such as PEMCO, Front Desk, Essentia Water, Lagunitas, HomeAway, LearnBIG, Cheddar's Restaurants, and Group Health. It has also worked successfully with numerous agencies, like BBDO, Publicis, DNA, Cole & Weber, Razorfish, Inferno London, and Wexley School for Girls.
Areas of Focus
Advertising
Business Strategy
Customer Insight
Big Data
Entrepreneurship
Communications
Journalism
Branding
Writing
Marketing
Sample Topics
How Diversity Trumps Ability in the Modern Workplace
Accelerate your Problem Solving
Creativity in the Post-Digital Age
The Decline of Expertise
Why Questions are More Important than Answers
The 6 Reasons Why the 20th Century Business Model is Fucked
The Reality of the "Global Citizen"
"One of the key challenges with strategy is overcoming the illusion that you have one."
Accelerate Your Problem Solving
When trying to address a new issue or challenge facing your business, are you asking the right questions? When facing new situations, it's easy to fall into the trap of jumping into action based on our history and expertise. But what if you aren't asking the right questions before you begin to problem solve? It wastes time and money and ultimately may not fix the issue. Better to do some work up front to get the right questions framed so that the answers can accelerate you to a solution.
After this session, attendees will be able to:
Recognize the warning signs that you are asking the wrong question
Employ techniques to hone in on the right questions to ask
Better use the resources and talents of your team to accelerate problem solving
Creativity in the Post-Digital Age
The world is changing at warp speed. Technologies evolve, dominate and fade in months rather than years. Market dynamics shift with increasing frequency. In this new reality, we need to redefine what it means to be an expert. Expertise built over time—often years—is less important today than having the creativity to recognize, adapt to and leverage new opportunities. What is creativity? How does it happen? Can it be built into your business?
After this session, attendees will be able to:
Gain a clearer understanding of the foundations of creativity
Learn about techniques for building greater creativity across your teams
Understand how creative thought can accelerate your business results
The 6 Reasons Why the 20th Century Business Model is Fucked
The world of business is now in a state of permanent change, where the behaviors needed for success have been completely redefined. We know businesses need to be more agile, more experimental and more networked than ever before, but what about the fundamental blueprints on which they were designed in the first place? It's not enough just to make some trendy cosmetic adjustments. Businesses need to go back and rethink the very models on which they were built and reinvent the way that they deliver value to their customers.
After this session, attendees will be able to:
Identify the shortcomings of their own business plans
Understand how to pivot on strategy without compromising on vision for the business
Create a better roadmap for directing their business to succeed
"I am going around the world working with the best marketing strategists out there. In so doing, I spent two weeks soaking up all I could alongside Kevin. What I found was a truly unique approach to strategy that I think gets past the easy, first-blush ideas faster and into the more interesting, unusual and differentiated ideas that are commercially impactful."
"When I first encountered Sticks, I hoped that they might prove to be the wild card that could really challenge our thinking and make us look at our business through a completely different lens. They not only exceeded that expectation, but did so with a down-to-earth and collaborative straightforwardness that made them a pleasure to work with; and the clear choice to lead us through a truly objective, deeply insightful and focused exercise. Sticks offers a completely different model, allowing them to custom-tailor a team to tackle your specific challenge – so critical for the ever-changing times in which we brand marketers now have to navigate."
"Put simply, I'm deeply and madly in love with Kevin May. He brings everything together into one great package. He is a great teacher, an amazing strategist, and a fabulous communicator. He can make me dissolve into tears of laughter as easily as he can make me sit up in rapt attention. Kevin is a master at taking very complex information and distilling it down in a way that can only be described as brilliant. Anyone that has the opportunity to work with Kevin May is quite lucky indeed."
"Kevin is one of the most thoughtful and diligent people I have ever come across in my time in advertising. He never settles for the obvious and the familiar, he searches out original and persuasive truths that result in remarkable pieces of communication. His enthusiasm for the job in hand is infectious and he effortlessly creates a loyal and dedicated team who genuinely enjoy working with him. He is undoubtedly one of the good guys."